Are you in need of the perfect choir riser? Whether you're hosting a choir performance, school recital, or any event that requires elevated special event seating, selecting the right rental choral riser vendor is essential.
Here are four steps to help you calculate the perfect choir riser:
Step One: Know Your Performance Space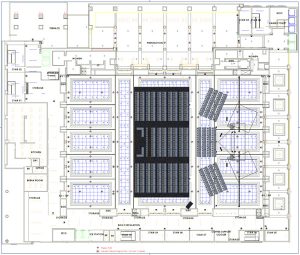 Before ordering a choral riser, it's crucial to understand the dimensions and layout of your performance space. Accurate measurements are key to ensure the perfect fit.  If you have access to a structural drawing of your church, or a CAD drawing of your event space, grab it!  If nothing else, a tape measure, a pen, and a sheet of paper works too.  Dimensions of your space are the first step in getting your event ready.
Step Two: Know Your Municipality
Complying with local regulations and permits is crucial when selecting the perfect choir riser. ADA requirements are also a necessary consideration when ensuring accessibility for your performers and audience.  Safety is the primary goal when building a structure that will hold people.  If you are planning on preforming in a public space such as a city park or event center, certified engineer drawings may also be required.
Step Three: What is my use going to be?
Knowing your specific use for the choir riser is pivotal in ensuring the appropriate size and weight capacity. Answer questions such as the number of performers, performance style, and any additional equipment or instruments to fulfill your specific requirements.
Is the choir going to be seated or standing?
Do you need room for an orchestra on the risers, or in front of it?
How is the audience going to be seated, and will line of sight be a factor?
Are you going to amplify the choir through a sound system, and where will it be placed?
Do you want a narrow performance space with higher tiers, or a wider performance space with lower tiers?
Step Four: Do the Math
Calculating the dimensions and weight capacity of your choral riser is essential for structural stability and safety.  Here's the basics:
For seated choirs – a normal banquet chair is 18" wide. With a standing choir, you can estimate shoulder to shoulder at 16" wide. If your standing choir is using songbooks, estimate 20" shoulder to shoulder. Standing children's choirs can be estimated at 14" wide.
Now – take your shoulder to shoulder measurements and multiply by the number of voices in your choir. Divide by 12, and this will give you the number of linear feet you need to look at for your choir. Divide by the desired amount of tiers. (Don't forget that the first row of voices will stand on the ground, or on stage in front of the risers.) From there – add 8' minimum for aisles on stage right and left.
For riser depth – standing choirs will typically use 2' of depth per tiers. Seated choirs will typically use 3.5' of depth per tier. Multiply by the number of tiers (don't forget that first row on the ground!) and this will give you the depth needed for your riser.
Additional Uses for Choral Risers
Choral risers may be known for their ability to elevate performances and choirs, but their versatility extends far beyond just that. These multi-purpose staging solutions are like the chameleons of the event world, adapting to various needs and enhancing the overall experience. Here are some additional uses for choir risers that will make you see them in a whole new light:

Photo Risers: Picture this – a group photo with everyone perfectly arranged in rows, easily visible and capturing the magic of the moment. Choir risers provide a fantastic platform for arranging large groups of people, making it a breeze to capture memorable pictures at events such as weddings, galas, and family reunions. With everyone clearly in view, you won't have to worry about people being hidden in the back.
Press Risers: When it comes to media coverage, creating an optimal vantage point for photographers and videographers is essential. By utilizing choral risers as press risers, you not only provide the perfect platform for capturing important moments but also ensure that the media team has a clear line of sight to the subject of their coverage. Press risers are frequently used in events like press conferences, award ceremonies, and red carpet occasions to ensure maximum visibility for media professionals.
Audience Seating Risers: Want to ensure that everyone in the audience has a clear view of the stage? Choral risers can be transformed into audience seating risers, creating elevated rows of seating for better sightlines. Whether you're organizing a corporate conference, a school assembly, or a theatrical performance, audience seating risers allow you to maximize the seating capacity of your event space while ensuring that every guest can enjoy an unobstructed view.
Safety, ADA Requirements, and the Best Options for Your Event
Safety is our top priority at Texas Choral Riser Rental. When it comes to choral risers, we understand the importance of ensuring a secure and worry-free experience for performers and event attendees alike. Our choral risers are designed and built with meticulous attention to detail, adhering to industry safety standards and regulations. From the materials used to the construction techniques employed, every aspect is carefully considered to ensure optimal structural stability and durability.
Our team of experts is well-versed in ADA requirements and accessibility guidelines, guaranteeing that our choral risers provide a safe and inclusive experience for everyone. We prioritize accessibility by incorporating features such as ramps, handrails, and non-slip surfaces to ensure seamless and safe transitions for performers and audience members with disabilities.

But our commitment to safety doesn't stop there. We go the extra mile by providing detailed structural drawings, offering peace of mind and assuring our clients that every element of their event setup meets or exceeds safety regulations.
We know that a successful event requires careful planning and a focus on the well-being of all involved. That's why we offer a range of choral risers that not only elevate performances but also prioritize safety. Allow us the opportunity to partner with you in creating a memorable and secure event. Contact us today to discuss your event needs, and let us help you find the perfect choral riser that combines safety, functionality, and style.